Where are you now?

World Post Services is right here in the United Kingdom.

Your letter can be in a reliable global postal system within minutes!
*Image is of a traditional British post and telephone box.
World Post Services is your fastest link to the British Post system. We will mail your correspondence within minutes of receiving your emailed information. Travelling First Class, your original letter may arrive next day to most places within England, Scotland, Wales, and Northern Ireland. In fact, the Royal Mail might be able to deliver to many countries of the world before you local collection service even has your letter sorted! Why not send a true hard copy that can be held and read again and again?
Why use World Post Services?
We are the best and most affordable way to access the United Kingdom, many other countries of Europe, and parts of the rest of the world. World Post Servicesí professional staff will have your documents laser printed and mailed within minutes of receiving your email. Our central location, close to a National Royal Mail Sorting Centre will allow your First Class letters to be delivered in minimal time, in most cases over-night within the UK. We could offer courier services, however we suggest that normal First Class mail is an acceptable national business standard.
Did you know that the British postal service is one of the most efficient and quickest postal services in the world? Did you know that normal first class mail is delivered to many places within the United Kingdom overnight?
Did you know that many people in England, Scotland, Wales, and Northern Ireland still do not have easy access to computers and email? Many older people simply cannot afford a computer and internet account, however you can now write these people from your own computer. World Post Services gives you access to your friends and relatives as if you were living right here in the UK.
World Post Services give you many opportunities. Think of the Business advantages that we could provide. Letters quickly across the globe, but without the costs of expensive couriers. Quick Personal mail at an affordable price. The world is yours.
World Post Services allows people from all over the world quick access to the United Kingdom. That's over 60 million people that we have immediate access with. But that is just one country. Our distributors, the Royal Mail, also deliver expeditiously to Europe. Europe adds another 200 million people to our network. The Royal Mail also has established global links that get distributed by daily flights from London which are very efficient. It is possible to have letters delivered to the USA and Canada faster than from certain areas within those same countries! Similarly, places such as Tokyo, Hong Kong, Johannesburg, and Buenos Aires are only one direct daily flight away from England. Where are you now? Is it possible that we can get your letter delivered faster than you can? The world now has over 6,000 million people in it spread over almost 250 different countries and dependencies. Are you in a country that would benefit from our service?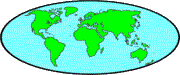 Remember that every normal posted letter has three parts to the process: Local Collection, Global Distribution, and Local Delivery. This web site is the collection, and it is immediate. Our global distributors, the Royal Mail, are incredibly efficient here in the United Kingdom. But how about elsewhere? The UK is a global hub with airlines from all around the world arriving in London with incredible frequency, making the UK a perfect location for global distribution. The UK is also a relatively small nation which collects, sorts, and delivers mail very quickly and efficiently. Therefore our service offers excellent local collection, distribution and local delivery. However, delivery will always depend on the local post office in the country of the receiver. There is nothing that can be done about delivery. World Post Services offers you a possible big advantage over the local collection and global distribution of your letter from you current location in the world, but we have no control over final local delivery. Delivery within the UK will enjoy an expeditious service conducted entirely by the Royal Mail, one of the best post offices in the world.
Think about where you are now and where your letter is going. How will it get there? What countries will your letter stop in to get re-sorted or clear customs? How long does it take each time your letter is re-sorted? Are there enough people living where you are now to justify a direct flight to your destination? How long and complicated is the path of your letter and why is it always late?
Think about it. If the mail service is so good in the United Kingdom, then why not send your letter from here? Why not send it now using our service?
World Post Services can save your letter time.