Write a letter right now to anybody in the world. Use your credit card in your own local currency and then forget about it! For one all inclusive price, our automated service will print your message and deliver it to one of the fastest and most reliable post offices in the world, the British Royal Mail Post Office. Your relative, friend, or associate will receive a printed letter... from you.

Simple. Proven. Tested. Perfect for Single use. No registration. No junk mail. No spam.
What are you waiting for? In less than 5 minutes your letter could have already started travelling from your location to anywhere in the world. Why not try us now and write a friend.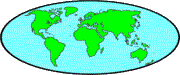 The emailTelegram.com service is offered by World Post Services Ltd., a global internet communications company based in the United Kingdom. We are located close to the major Royal Mail sorting and distribution station at Coventry, in the heart of England. We will process your order quickly, confidentially, and reliably. Your next letter could be only minutes away from the mail.
Where are you?

We are right here in the United Kingdom.

Your letter can be here too, in 5 minutes!

*Image is of a traditional British post box. (We use a main sorting office).
Our emailTelegram.com service is your fastest link to the British Post system. We will mail your correspondence within minutes of receiving your email. Travelling First Class, your original letter may arrive next day to most places within England, Scotland, Wales, and Northern Ireland. In fact, the Royal Mail might be able to deliver to many countries of the world before your local collection service even has your letter sorted! Why not send a true hard copy that can be held and read again and again?
Simple. You write the text. We print it and mail it.

Like an old fashioned "telegram", it passes the message in basic simplicity. There is a text limit of 2000 characters ( approximately 400 words) and 35 vertical lines. ( Text Tips )

Affordable - Simple - Quick - Permanent
* Displayed images are for sample illustration purposes only.